Our productDNA team
Supporting productDNA - a single source of trusted data for suppliers and retailers
productDNA is a new service for the UK grocery industry, developed by the industry for the industry. It provides a single catalogue of high-quality, independently-verified data that enables retailers and suppliers to use one shared language to describe and share products, creating a community built on collaboration.
Luke Hartman
Operations Manager
As the Operations Manager for productDNA I'm responsible for meeting the needs of our customers throughout the whole end-to-end service inclusive of on-boarding, implementation and support.

Our focus as a team has been to create a customer-centric operations team whereby we use feedback to deliver greater value in the productDNA services we offer. We encourage for all our members to feedback on our services and welcome this as we revolutionise the way the retail industry operates.

My experience prior to GS1 UK has been a decade within retail working across multiple disciplines including software delivery, business analysis and operational support. I have diversified in roles from leading world-wide operational support teams to delivering transformation projects in merchandising and buying where the problems of data quality were significant. I have, and continue to use these experiences to my advantage in building and shaping the operations team for the industry-led productDNA service.
Email: luke.hartman@gs1uk.org | LinkedIn | Telephone: 020 8068 8719
---
Dan Sands
Customer Success Manager
As Customer Success Manager at GS1 UK, my role is to work closely in partnership with our productDNA customers and the industry to truly understand the business challenges they face in product data management. I then work in collaboration with our fantastic teams at GS1 UK, as the voice of the customers to ensure we have the teams, product and processes in place both now and in the future, to ensure productDNA delivers real tangible value to the industry.

Prior to joining GS1 UK, I worked with Brands across Europe, supporting them in the creation, management, enrichment, and distribution of product content to their retail partners. Over the past 5 years I've spent time working in markets such as the UK, Ireland, Netherlands, Belgium, Canada, and even had the privilege of living and working in France, which has given me an understanding of the Global challenges Brands face with the ever growing demand and importance placed on quality product data.
Email: dan.sands@gs1uk.org | Telephone: 07384 511 839
---
Claire Wintle
Engagement Executive
I am an engagement executive in the productDNA team. My role is to on board members by understanding their business requirements, providing solutions and building relationships.

Prior to joining GS1 UK I began my career providing customer support for Subway Franchisees. I then joined the consumer market team at SunRice, Australia's leading rice manufacture, where I had a variety of jobs both in their domestic and international sales teams.

I'm originally from the UK but I've spent the last 10 years living in Sydney. I am really excited to be back in London!
Email: claire.wintle@gs1uk.org | LinkedIn | Telephone: 020 3318 0633
---
Alex Harrison
Engagement Executive
I joined the GS1 UK in March 2018, and work as an Engagement Executive within the productDNA team. My role is to actively engage with retail grocery suppliers, building relationships, understanding their specific business needs and onboarding them on to our revolutionary service.

Originally from New Zealand, I began my career as an Account Manager for New Zealand Couriers before becoming the Customer Relationship Manager for Cardinal Logistics – New Zealand's premier third-party provider servicing the FMCG community.
Email: alex.harrison@gs1uk.org | LinkedIn | Telephone: 020 3318 0633
---
Tatjana Guzenko
Implementation Analyst
I joined GS1 UK in June 2018 as Implementation Analyst of productDNA. My main focus is to help our customers to implement productDNA data model into the productDNA service. I am the key technical point of contact for any implementation queries and escalations.

I started my professional career in software testing and then moved to master data management operations. Before joining GS1 UK, I was managing implementation of controlled vocabulary service to standardize organization reference data across the business by ensuring common terminology is used within enterprise applications and data is aligned to the enterprise data models.

Outside of GS1 UK I like playing basketball and enjoy London theaters and entertainment.
Email: tatjana.guzenko@gs1uk.org | Telephone: 0208 068 8719
---
Stuart McGee
Technical Support Executive
My role is Technical Support Executive on the productDNA team, having joined GS1 UK in November 2018. My role is to help manage the service and work closely with Alkemics who develop the platform and to make sure it is running smoothly.

I begun my career working for a technology company near Cambridge as part of their support team for their document management software, while also getting involved working with databases, APIs and running customer projects at the same time.
Email: stuart.mcgee@gs1uk.org | Telephone: 07384 832758
---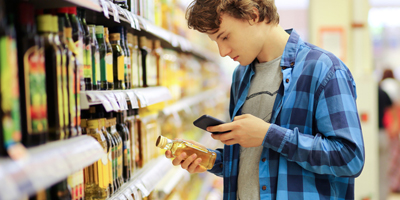 The UK retail industry's single source of trusted data. Find out more and how to get involved