Working towards a seamless and paperless supply chain
The Perfect Order programme will unlock over £100 million of costs by dealing with avoidable issues in the retail grocery supply chain – by removing manual intervention and enabling an automated, paperless order-to-cash process with end-to-end traceability.
Automating the order-to-cash process
In a perfect world, there would be no manual intervention in the entire order-to-cash process – as the order is created, sent, processed, picked, despatched, receipted, invoiced and finally paid.
To reach this perfect world, a group of leading retailers and suppliers, facilitated by GS1 UK, are working together to remove complexity from the process. This three year programme will create a set of best practice industry guidelines for the order-to-cash process that deliver efficiency and simplicity, covering three main functions:
1. Order – because issues at the start mean problems and failures and further down the process
2. Move – once the order is accurate then there will be less need to make adjustments and reworks at assembly and despatch
3. Pay – if the order and delivery are correct, then a simple three way match will trigger payment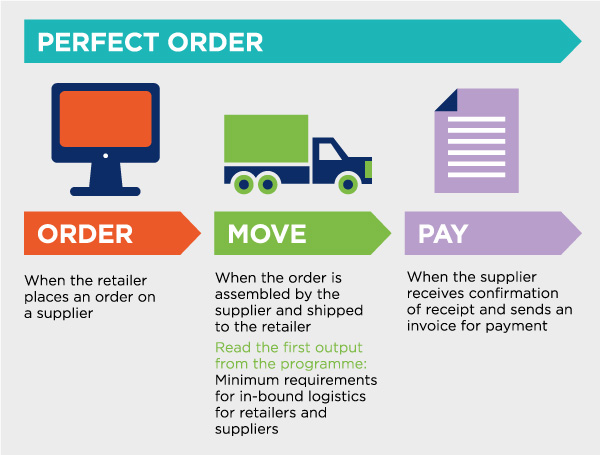 The Perfect Order: Benefiting retailers and suppliers
The Perfect Order drives efficiencies and reduces costs for suppliers and retailers by:
Improving product flow through the supply chain from the supplier to the retailer
Reducing the time it takes to create, ship and receive deliveries
Creating and receiving accurate deliveries, resulting in less returns and invoice queries
Allowing the retailer to plan onward deliveries to stores and depots more efficiently
Increasing staff productivity by reducing non value-added activities, such as spending time chasing and following-up order and invoice queries
Improving utilisation of vehicles through reduced turnaround times
Improving relationships between retailers and suppliers through greater trust and confidence in the quality of supply chain data
Improving the customer experience
Ultimately, it's all about the customer. Improving the shopping experience, by increasing product availability through every channel the customer chooses to shop – in-store, online or mobile – increases customer satisfaction and loyalty, and drives increased sales for the retailer and supplier.
Industry guidelines
The first industry guidelines for the Perfect Order are now available: the minimum requirements for in-bound logistics for retailers and suppliers. As a first step you need to review the guidelines and understand your current level of compliance. And if you need help, then contact us.