A transformative year for healthcare: Glen's reflections on 2020
As 2020 comes to a close, head of healthcare, Glen Hodgson, shares his end-of-year round-up of the current industry landscape, our work at GS1 UK, and what is in the pipeline for 2021.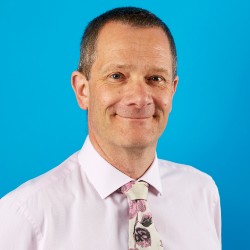 This year been a year of transformation, and within that change, we have seen just how dynamic, resilient, innovative, and agile the healthcare systems we rely on really are. 2020 has given rise to strides in digital innovation and extraordinary progress has been made internationally on many levels.

The reliance on technology to remotely continue to serve patients during these times has practically become commonplace. However, it is pharmaceutical research and innovation that has perhaps recognised the biggest triumph in recent months in the quest to develop a COVID-19 vaccine.

And during this pursuit of a treatment, the UK's NHS finds itself makes history once again as it becomes the first healthcare system in the world to begin rolling out the first UK-approved vaccine.

GS1 UK's healthcare work in 2020
For our GS1 UK healthcare team, the year has also been one of progress and achievement – the publication of the Scan4Safety evidence report: "A scan of the benefits", being our most formidable accomplishment of the year. Released in line with the publication of Baroness Cumberlege's Review (The Independent Medicines and Medical Devices Safety Review) poignantly titled "First Do No Harm", both validate the importance of transparency and traceability as a key precursor to patient safety.

The need for traceability in a clinical setting has been firmly been recognised in The Cumberlege Review, while one of the means to achieving this lies in the results of the Scan4Safety report. As the Medicines and Medical Devices Bill legislation grows ever closer to completion, the requirement for accurate unique device identification, and patient identification, becomes increasingly necessary. This is particularly critical given the imminent introduction of what will be a national medicines and medical devices registry.

To drive this forward as we move into 2021, we have strengthened our key pillars of support, both internally and externally. Firstly, by welcoming the addition of Melinda Johnson – the Department of Health and Social Care's commercial director, to GS1 UK supervisory board bringing her wealth of industry expertise and healthcare knowledge our operations; secondly, through the reinvigoration and growth of both our GS1 UK Healthcare User Group (HUG) and Healthcare Advisory Board (HAB); and finally, through our continued development work with all our GS1 UK partners.

On the note of the HAB, it brought great pleasure this year to be able to mark its five-year anniversary with a celebratory dinner at the House of Lords. Here, we welcomed guests Baroness Julia Cumberlege, Keith Conradi – chief investigator at the Healthcare Safety Investigation Branch, and Graeme Tunbridge – director of devices at the Medicines and Healthcare products Regulatory Agency to share their insights. And I am delighted to share the news that Graeme then went on to become our newest member of the board.

The reasons behind reshaping the HUG centred on our ambitions to ensure our HUG presented a true vision of those using our standards so we can better shape our activities throughout the year. Today our HUG is formed by senior representatives from across the healthcare regulatory, member bodies, NHS provider, and supplier landscape, to help us deliver interoperability and sustainability through Scan4Safety across the NHS.

Alongside the work with our GS1 UK partners, this provides us with a strong foundation to drive wider momentum around the use of our standards in healthcare.

What does 2021 look like for us?
Though, face-to-face events are on pause for now, we are still looking forward to sharing insights and connecting with peers virtually in the events space. So, in 2021, do join us at HETT Reset – where I will be chairing and speaking in the Integration and Interoperability theatre, and the 9th Annual Pharma AntiCounterfeiting & Serialisation 2021 conference – where I will be presenting on the global battle against falsified medicines.

Through our work in-house, we look forward to continuing to drive the adoption of GS1 standards across the UK and at present we are working on a shaping a robust four-nation approach to take this forward. While doing so, we will keep working closely with regulatory bodies, our partners, associations, and our members, to realise these goals.

There is much to be learned from 2020, whether it be due to Brexit or the pandemic, we keep coming back to the immeasurable value of using global standards to support traceability of all products – that is anything from tracking and tracing PPE, medicines, or even vaccines. Much has been achieved, but much more needs to be done in 2021!
Thank you
To close, I would like to thank you all for your continued and valuable support, in spite of what has been a difficult year for us all. It has been the resilience of our dedicated health workers, care workers, and key workers, that has relentlessly kept us all going throughout this year – for that we cannot thank them enough.
Enjoy the festivities and we look forward to what we hope will be a brighter year ahead.
With best wishes and season's greetings,
Glen