Don't let our exports get stuck in the station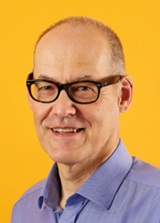 British trade is on the rise. Export orders are up 16% year-on-year according to the ONS. British manufacturing growth is at a three year high. Surging salmon sales helped the UK to export a record amount of food and drink in the first quarter of 2017. It's true that we have a significant balance of trade deficit, and that the Brexit negotiations will create a lot of uncertainty in the next few years. But it's also true that British business is optimistic about our future trade. When we asked our members, almost three-fifths (58%) of businesses have seen their cross-border trade increase in the last five years, while just 8% said their trade had fallen. Businesses expect their trade to accelerate in future, with 74% believing they will export more in the next five years.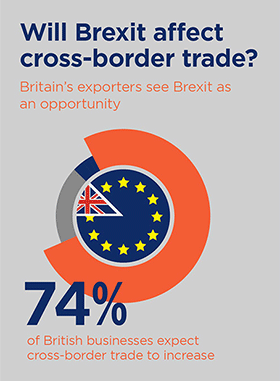 While ecommerce, technology and the move towards global standards for trade – such as GS1 standards – have helped to facilitate the expansion of UK exports, there are still hurdles holding back business. Many of the constraints on cross-border trade, such as tariffs or licences, require international agreements which will depend on the cooperation various Governments around the world. But one of the most pressing issues for exporters is one which is solely within the British Government's power to fix – our outdated transport network. Britain's freight sector is worth £121 billion Gross Value Added (GVA) to the economy, but our rail, roads and airports are approaching full capacity. When we spoke to our members, two-thirds (66%) of British businesses believe that, to help cross-border trade, the Government should tackle domestic transport infrastructure as a matter of urgency.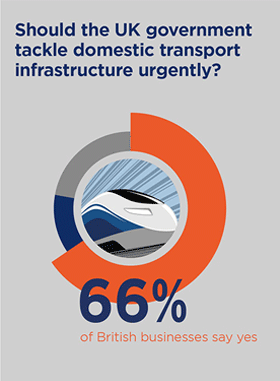 We increasingly live in a digital age, but we still need to be able to transport physical goods around the country and abroad.
As more firms like Amazon begin to offer same day delivery and others like Alibaba make it easier than ever before to export to Asia, rapid logistics are becoming vital. But we are currently failing to meet this challenge. While the UK struggles to complete the planned 225km High Speed 2 rail line by its proposed opening date of 2026, China will have opened 30,000km of high speed rail in the same time. Off the rails, road congestion is forecast to potentially cost the freight and logistics sector in the region of £500m per year by 2043.
It's not just our roads and rail networks which are struggling to cope. Now the Government has chosen Heathrow as its preferred location for expanding our airport infrastructure, it's imperative that the improvements start swiftly. Heathrow is critical for the UK's air cargo exports. It ships goods to 191 destinations, transports 1.5 million tonnes of freight and is essential for connecting the UK to its main overseas markets. Unfortunately, the airport is currently operating at 98% capacity. It needs to be able to expand quickly to meet the demand of British business. Not just for shipping goods, but also for enabling staff to travel across the world and generate trade.
Our ports are also behind our European rivals. Felixstowe, the UK's busiest container port, lies back in 7th place in Europe – failing to match the trading powerhouses of Hamburg, Rotterdam and Antwerp. But more investment in research and technology, combined with tax cuts to make the UK more competitive could see our ports take the top spot.
When it comes to logistics, Britain is stuck in the slow lane with petrol prices higher than the rest of Europe. The main reason for this is our higher rate of tax on fuel is hindering haulage. To boost our freight sector, the Government could introduce tax cuts on petrol for shipping firms, and also offer incentives for adopting electric vehicles - with BMW and Tesla both developing environmentally friendly lorries.
But these solutions will only allow us to keep pace with our neighbours and prevent the UK's transport network from holding back our trade. We could be much more ambitious. We could take the lead with our infrastructure, creating a transport network which drives trade rather than just supports it. During industrial revolution, our pioneering rail network propelled Britain to become the world's leading economy. But since then our infrastructure has slipped down the global rankings.
A bold move could put Britain back on top. One option would be to build a Hyperloop. These trains, first suggested by Elon Musk, travel over 700mph by placing commuters in pods levitating inside massive tubes, surrounded by a cushion of air. The cushion, along with the reduced air pressure inside the tubes, lowers friction and allows pods to travel at immensely high speeds in safety. A Hyperloop would be fast enough to allow travel between London and Edinburgh in only half an hour. While serious concerns have been raised over passenger experience, the carriages would be ideal for freight. The first Hyperloop test track has already been built in the U.S., with others planned for the Netherlands and the UAE. The economic benefit of having a Hyperloop in Britain would be tremendous. Fresh salmon caught off the Scottish coast in the morning could be on the plates of London diners that evening. A Hyperloop would revolutionise our supply network – enabling trade between cities in minutes not hours.
While a Hyperloop project would be expensive and there would of course be challenges in its construction, a more ambitious transport policy is certainly needed. Having voted to leave the EU, Britain must be seen as a better place to do business than our European neighbours, if we are to attract global investment. Having a state-of-the-art transport network would be a huge draw – like the bullet trains in Japan. As we seek to become a 'Global Britain' trading with the whole world, it is essential that we have a logistics network and supply chains which operate as efficiently as possible. If we want British business to succeed in exporting, it's vital that our export goods don't get stuck in the station.
Download report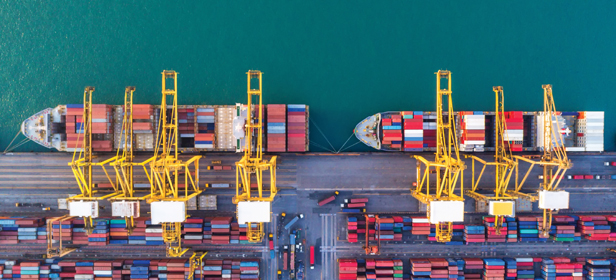 Read the views of over 1,000 SME businesses on the possible impact of Brexit and the global resurgence of protectionism
Join the conversation

We'd love to hear your views too - join the conversation on Twitter at #GS1trade.
You might also be interested in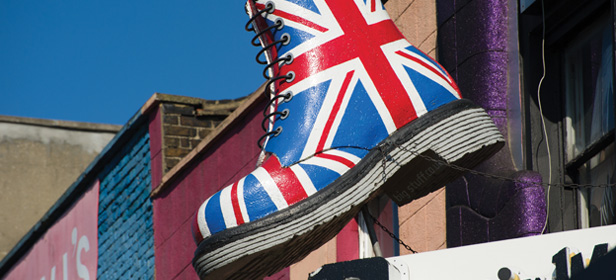 Read how the British public are buying locally again – whether it's food, drink or clothes